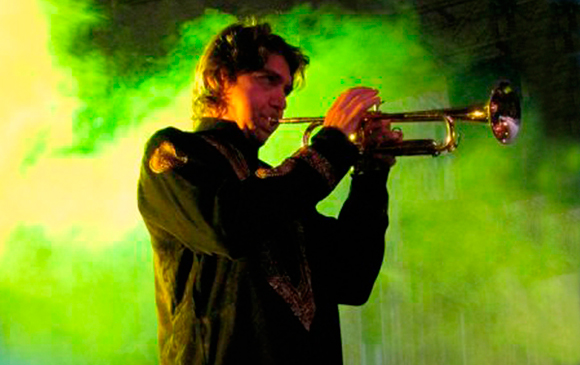 During the past years Rosati performed at the Bucharest, Vienna, Budapest, Tijuana, Rome jazz festivals; Iguape, Extrema at the Brazilian Carnaval in Rio de Janeiro, Sao Paulo and Praia Grande (Brazil).
In tour with Manoel Cruz Trio, Boca Nervosa, Bocato, Arlindo Jr & SAMBAJAH.
2011/2013: European tours with his own BRAZILATAFRO PROJECT (Italy, Hungary, Romania, Serbia, Germany, Austria and Slovenia)
Mainly based in Los Angeles Gabriel has been trumpeter for Orquesta Guayacan, Angel Lebron, Tito Puente Jr, Francisco Aguabella, Bellflower Symphony, Tom Kubis Big Band, Rique Pantoja, Ismael Miranda, Bobby Rivas, Sonora Dinamita, Sonora Santanera.
Trumpeter for Mariachi Universal and Mariachi America Internacional in Miami (2001).
Mr. Rosati has been produced by several independent labels in Europe and the US for a total of 20 cds (Smooth jazz, afro-cuban, brazilian, big band, ragtime and classical music projects).
From 1990 to 2010, as free-lancer, Rosati played with greats as:
Santana, Malo, Oreste Vilatos, John Handy, Gregg Allman, Deacon Jones & John Lee Hooker, Perez Prado All Star, The Checkmates, Os Originais do Samba, San Francisco All Star Big Band, with the "Brazil World Nike Tour" in Japan, Bob Mintzer, Billy Preston and bluesman Willy King.
Performed for three years at the major Las Vegas Spotlights:
Caesar Palace, Bally's, New York New York, Flamingo Hilton, Stardust, Luxor, Four Queens.
Touring Central America, North of Europe and twice Japan (opening act for three months at The Osaka Ritz Carlton Hotel with his own formation).
Also he appeared on a Video with singer Gerardo titled "Darroumba" for Capitol Records, on Video Music Network, with singer Vinicio Capossela and other tv live shows.
Teacher at the Canadian College (in Italy), Comton Conservatory of music as well as Workshops-MasterClasses professor of Jazz, ensemble, brass techniques and Afro-Cuban-Brazilian music programs in Denmark, Las Vegas Performing Arts Center, Tokyo Yamaha Jazz School, Fullerton College, Long Beach Polytechnic, Calstate University of Los Angeles, Armenia Conservatory and many others.
Professor of Jazz Trumpet at the Italian National Conservatory of Music in L'Aquila (2016/2018)
Winner of the Dean Martin Prize Award (2014)
Professor of composition & percussions of Latin American, African, Asian, World music at the Italian National Conservatory of Music in Pescara (2010)
"BEST JAZZ" nomination at the Orange County Music Awards (2008)
On the cover of American "JAZZ PLAYER" magazine with his own music cd (1999)
Gabriel is author of 16 instructional books:
Latest "Le Musiche del Messico" (Orient Express Ed.)
100 Original Tunes Songbook + 4 cds Play-Along (Hal Leonard Publ.)
"Latin American Trumpet Music", "The Salsa Trumpet", "Trumpet & Organ Classics" (Mel Bay Publ)
His own method for trumpet: "The Thinking Trumpeter" (by Carisch ed.),
"Milva sings Piazzolla" & "Per chi suona la Tromba" (Curci Ed.) "The Random System" (book+DVD)
"Latin Brass Soloist", "100 Ultimate Blues Riffs" and "The Latin Sax Soloist" (ADG Prod.)
A "Claudio Roditi note by note solos transcriptions" volume by Colin Publ. (New York).
And one of Gabriel's albums ("Brazilatafro Project" vol.2) with cover story, was released as Play-Along by Dorn Publications with the June/July '99 issue of American "Jazz Player" magazine.